We're Huntington, WV's Leading Auto Body Shop. East End Body Shop is a collision repair company dedicated to bringing true value to the collision repair and claims management process for all parties involved. Regardless of how you personally define "value", East End Body, inc is fully capable and prepared to deliver. There are many characteristics that truly distinguish our company from other "traditional" shops in the collision industry. Using this website, you will discover not only what those differences are, but how they affect you, the customer as well.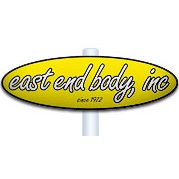 If you find yourself in need of vehicle repair estimates due to an accident, or simply wanting to improve the appearance of your car, we hope you think of East End Body Shop in Huntington, WV. Give us a call to set up an appointment (304) 525-5361.
Company: East End Body Shop

Address: 3117 Ferris Ct, Huntington, WV 25702, USA

Phone: (304) 525-5361


Business email eastendbody@gmail.com

Website URL: https://eastendbodyshop.com

Google Maps url https://goo.gl/maps/FQxd1iP4AQnS9FJi8

Facebook url https://www.facebook.com/eastendbodyshop/

Twitter URL https://twitter.com/eastendbodyshop


Established: 1972

Services: Auto Body Shop, Auto repair shop, Exterior/Interior services, Body Painting, Body/Collision Repair, Car Detailing, Frame Repair, Glass Repair/Replacement.


Business hours: Monday 8AM–5PM, Sat, Sun closed

Payment : American Express, Discover, Money Orders, MasterCard, VISA, Personal Checks.

Latitude: 38.4275329

Longitude: -82.3950807